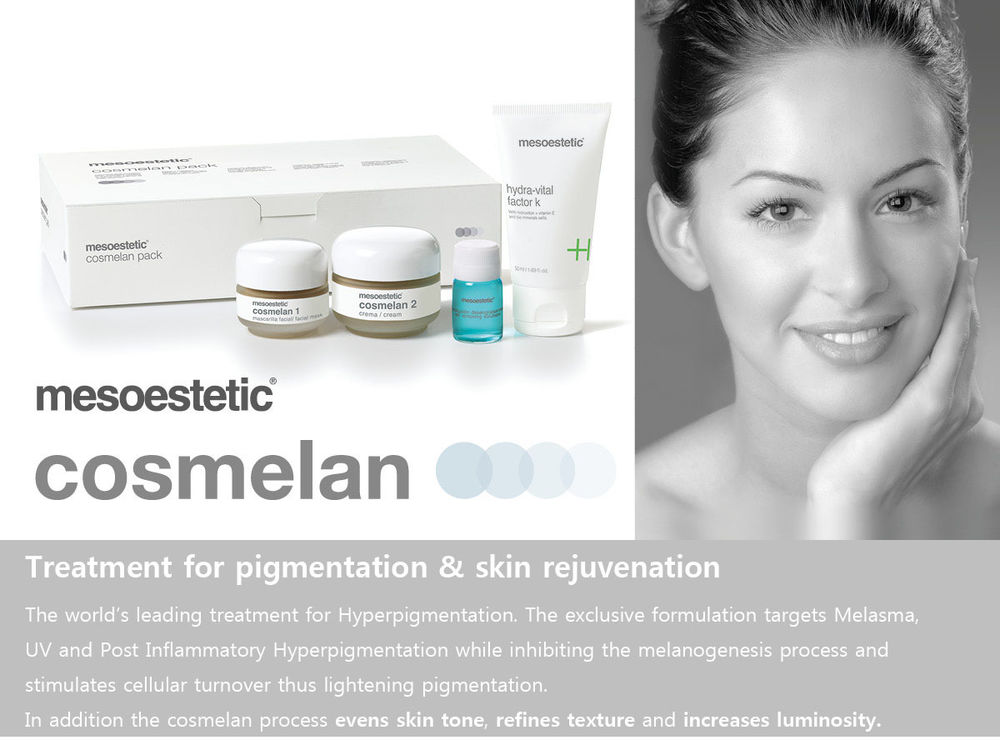 At Shepparton Skin Clinic we are proud to provide the world's number one treatment for pigmentation.
Whether it's due to sun exposure or an imbalance in hormones, pigmentation can affect a person's confidence.
The Cosmelan and Dermamelan treatment offered at Shepparton Skin Clinic is a two-phase intensive treatment program involving the application of a highly potent de-pigmentating mask. This is applied at the clinic and is left on the skin for up to 8-12 hours dependent on skin type and severity of pigmentation.
These treatments work by decreasing the skin's melanin production by inhibition of the enzyme tyrosinase, a basic enzyme in the melanin formation process. Several of the substances present in the Cosmelan/Dermamelan formula act by blocking this enzyme, or even by inverting the metabolic process of the transformation chain. This results in pigment being bought to the surface and then sloughed away to reveal a brighter and more even complexion.
Downtime can vary, and homecare will be provided on the day of your treatment.
The second treatment phase is an at-home maintenance cream that should be applied twice daily to enhance the effects of the mask.
This safe and non-invasive procedure treats the source of pigment formation to deliver a rapidly clearer, brighter and more clarified complexion.
Cosmelan & Dermamelan can be used for many indications including:
Benefits of Cosmelan & Dermamelan compared to other Pigmentation treatments:
As a topical lightening and brightening procedure, Cosmelan & Dermamelan is safe to use on all skin types including Asian and Indian skins which often have significant pigmentation that cannot be treated safety with other methods such as IPL or Laser. It can be used in patients whose pigmentation has not responded to other types of treatments. 
We also stock the Cosmelan & Dermamelan 2 Maintenance Cream  which helps to maintain the results of your clinical treatment. Some patients with mild pigmentation may get the desired result from simply using the Dermamelan or Cosmelan maintenance cream alone.