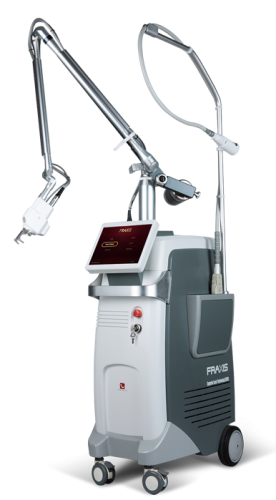 Fraxis Duo from Cryomed is the first multi-platform CO2 laser combined with RF micro needling to hit the aesthetic market. It's a partnership of the titans – fractional CO2 laser combined with micro-needle fractional radiofrequency (RF) – and it is the latest technology to hit the aesthetic arena.

Combining the two technologies means both superficial and deeper heating coagulation can be achieved. The CO2 fractional laser enables intense superficial heating stimulation while the micro-needle fractional RF provides higher volumetric heating and deeper heat diffusion. This caters to a wide spectrum of medical and cosmetic indications, including acne scarring, wrinkles, skin laxity and pigmentation.
Fraxis Duo allows the treatment of all skin types for numerous indications, including acne scars, wrinkles, pigmentation, skin laxity, and poor skin tone and texture. Both superficial and deep stimulation is achieved in the one device, increasing effectiveness and reducing side effects. Safety and comfort are also maximised by delivering energy to the target skin layer without damaging the surrounding tissue.
In short, Fraxis Due is a single machine with multiple technologies and countless applications.