Dermaceutic Medical Grade
Dermaceutic is a cosmeceutical range to prepare, optimise and maintain the results of all aesthetic procedures. Dermaceutic is also a range of chemical peels used by skin care specialists in Medical clinics only.

With over 20 years' experience and 1 million peels to date a new generation of specialty peeling products for medical professionals has been bought to the forefront of Aesthetics. The innovative peeling range for professionals has been carefully and precisely created for optimum results and little client discomfort. Dermaceutic offers a number of peeling options for specific skin problems and works on all photo types.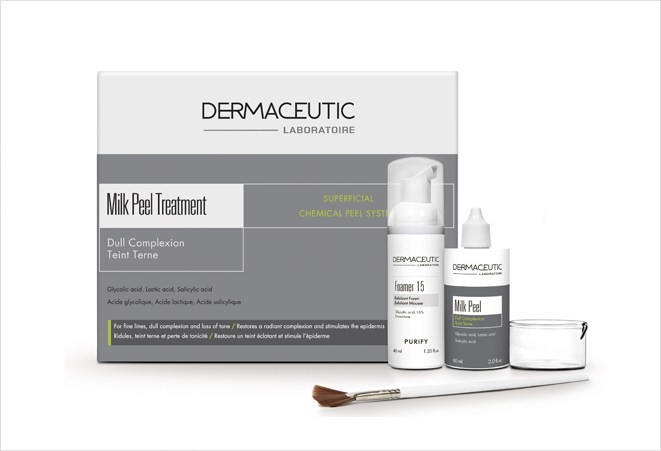 For the appearance of fine lines, dull complexion and loss of tone.
Boosts collagen production
Restores luminosity and a radiant complexion
Evens skin tone
Improves appearance of fine lines and wrinkles
Regulates oily skin and dilated pores
For oily skin, dilated pores and excess sebum
Purifies the epidermis
Brightens dull complexion
Decreases sebum production
Tightens pores
Regulates oily skin and dilated pores
For the appearance of pigment spots, melasma and post-inflammatory pigmentation
Reduces appearance of melasma and pigment spots
Evens skin tone and complexion
Improves skin radiance and brightness
Proven action on all mechanisms of pigmentation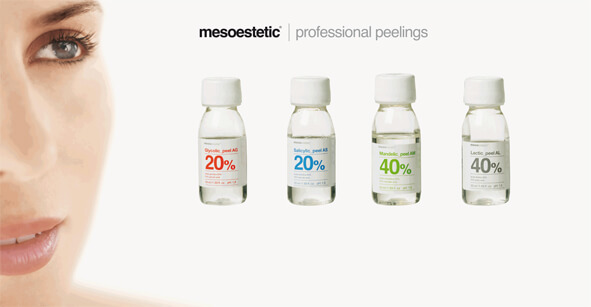 Mesoestetic Medical Grade Peels
Mesoestetic clinical and medical skin peels are the ultimate anti-ageing treatment. They are far superior to ordinary facial treatments, gently peeling and decongesting pores while hydrating the skin to achieve visible, long-term results. Chemical and Clinical skin peels address skin concerns such as rough dull lifeless skin, sun damage, ageing, hyper pigmentation, congestion and oily Acneic conditions.

Great skin often takes time and patience. For best results, a series of peels is essential. However, even a single treatment can make a significant difference. We offer Mesoestetic clinical and medical strength skin peels, with varying strengths and formulations to treat a wide variety of skin concerns.
For those who are trying to fade the effects of dark spots on face, uneven skin tone, repair sun damage, and trying to treat the inflammation that occurs with acne; chemical peels that use alpha hydroxy acids (AHAs), such as a mandelic acid peel, can be quite effective.
Mandelic acid is derived and extracted from almonds. However, it differs from glycolic and lactic acids in that its molecules are larger and do not penetrate the skin as deeply. As a result, there is less overall irritation when compared with other AHAs, which is beneficial for those who have sensitive skin that is prone to inflammation. In addition, mandelic acid has an antibacterial effect on the skin, which makes it a viable choice for those with acne-prone skin who want to have a chemical peel but are worried about irritation as a result. A mandelic acid peel is also a possible choice for those who have never had a chemical peel before and want results that are gentle on the skin.
Salicylic acid is a beta hydroxyl acid (BHA) derived from willow bark. It has powerful anti-inflammatory and antimicrobial effects. It enables the breakdown of sebum and encourages superficial skin resurfacing without producing inflammation. Salicylic acid penetrates deeper than other acids, allowing for it to diminish inflammatory acne, control sebaceous secretion, reduce pore size and even out overall skin tone. Salicylic acid peels are not recommended for people with aspirin allergies or sensitivity. Generally, there is little to no downtime involved with this peel.
Lactic acid is an alpha hydroxyl acid (AHA) derived from sour milk. Lactic acid stimulates the production of new collagen which can make up the dermal matrix. It has a natural moisturizing effect on the skin, attracting water molecules, stimulating ceramide synthesis and modulating the skins' barrier function.
Suitable for sensitive/dry skin types, uneven skin tone, sun damage and pigmented spots.  There is absolutely no downtime involved with this peel. It is also recommended for delicate areas such as the neck & décolletage.
The Modified Jessner's peel is considered to be a strong, broad-spectrum peel, as it is made up of three different acids; salicylic acid, lactic acid and citric acid. Salicylic acid is derived from willow bark; lactic acid is derived from sour milk, and citric acid is derived from citrus fruits.

Suitable candidates for this combination peel would be individuals suffering from cystic acne, acne scarring, dark spots, irregular/dull skin tone, oily skin types and mild to moderate photoaging. Due to the strength of this peel, there may be a short downtime associated with it.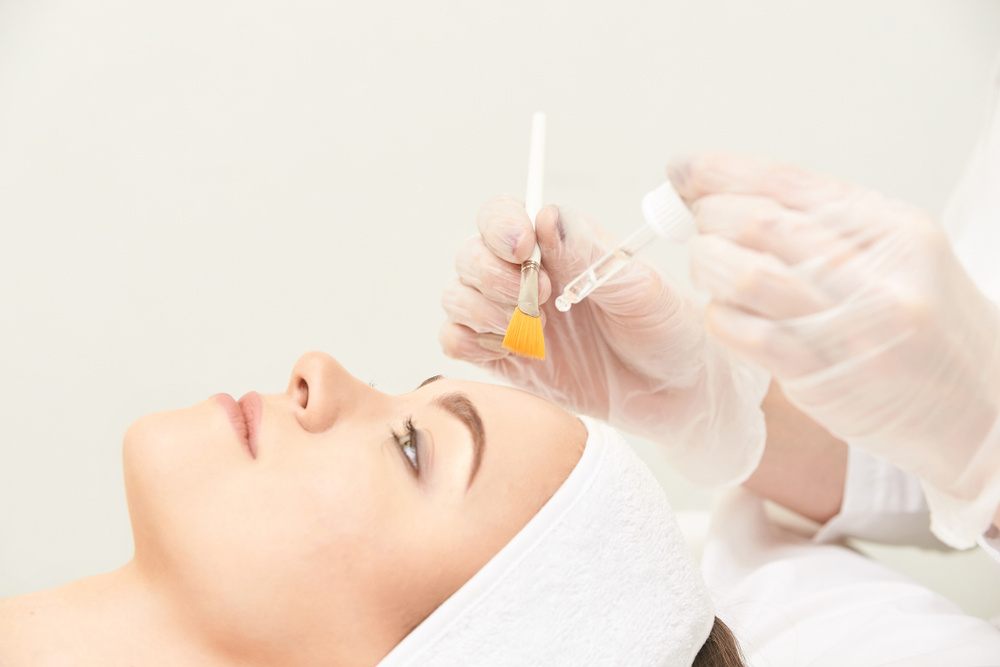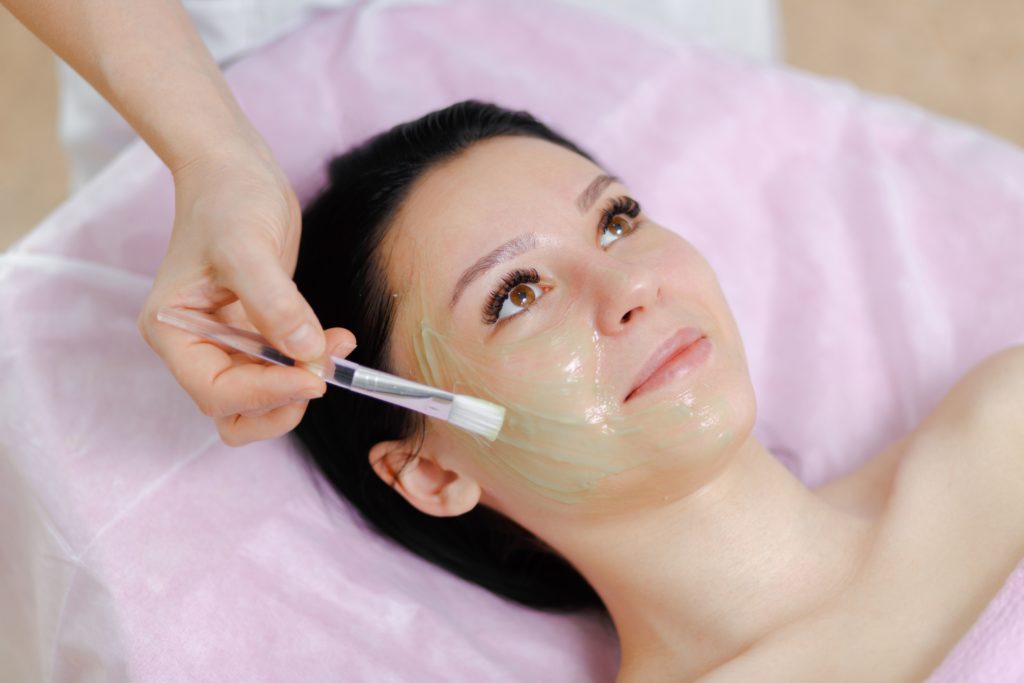 Aspect Dr. Medical Grade Peels
Our Aspect Dr Chemical Peels are clinical strength results-oriented corrective treatments and are far superior to a standard facial in terms of truly visible results, and long term durability.

The goal of any peel is to remove the skin's outer layer of dead cells to produce a healthier, stronger skin underneath. When performed by one of our highly experienced skin therapists, a course of peels alongside a prescribed home-care regime, can be extremely effective at treating a multitude of skin conditions.

Your specific skin concerns, along with your skin therapists assessment will help establish the most effective solution for you. Peels peels can vary in intensity, from very superficial to deeper.

Our peels are designed to promote change deep within the skin to maximise results and minimise downtime. We offer a complete range of cosmeceutical skin peels to specifically target your complexion concerns.​
If a gentle exfoliation and deep hydration is what you need without the flaky downtime and the added bonus of epidermal pigment reduction and anti-bacterial properties these L-lactic acid-based peels will get you those phenomenal results you're looking for. Lactobotanical peels can be performed as a one-off treatment however a course of 6 treatments is recommended. Lactic acid peels can also be used to strengthen a skin with an impaired barrier function and are also a very gentle way of treating inflammatory acne conditions.
No matter your age, if you suffer from spots, excessive oiliness or clogged pores, the Problem Skin Peel will put you on the fast track towards purer, clearer, more healthy-looking skin.
This peel's exclusive Aspect Dr™ technology combines the powerful skin-renewal and anti-imperfection action of clinical-strength alpha and beta hydroxy acids—a world first in the field of skin care. These potent acids work tirelessly to cleanse your pores and rid them of accumulated impurities and stale oils (both of which can lead to the appearance of unsightly imperfections). Meanwhile, the Problem Skin Peel's patented, clinically-approved cocktail of three ultra-purifying rainforest botanicals serve to detoxify, calm and, ultimately, perfect the look of excessively congested and blemish-prone skin.
The Complete Pigment Peel is a truly remarkable and unique breakthrough clinical treatment to rapidly clear away the appearance of those unsightly marks and visibly restore clarity to your complexion so that it appears to glow from within. The Complete Pigment Peel combines the powerful skin renewal and clarifying action of clinical strength alpha and beta hydroxyl acids to lift away the accumulated layers of dull, discoloured cells, plus the remarkable skin whitening action of optically pure Vitamin C and Tyrostat™.