Mesoestetic Medical Grade Peels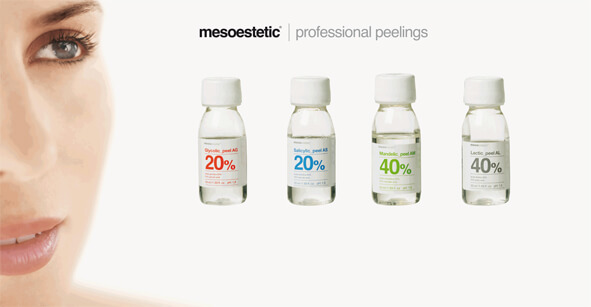 Mesoestetic clinical and medical skin peels are the ultimate anti-ageing treatment. They are far superior to ordinary facial treatments, gently peeling and decongesting pores while hydrating the skin to achieve visible, long-term results. Chemical and Clinical skin peels address skin concerns such as rough dull lifeless skin, sun damage, ageing, hyper pigmentation, congestion and oily Acneic conditions.

Great skin often takes time and patience. For best results, a series of peels is essential. However, even a single treatment can make a significant difference. We offer Mesoestetic clinical and medical strength skin peels, with varying strengths and formulations to treat a wide variety of skin concerns.
For those who are trying to fade the effects of dark spots on face, uneven skin tone, repair sun damage, and trying to treat the inflammation that occurs with acne; chemical peels that use alpha hydroxy acids (AHAs), such as a mandelic acid peel, can be quite effective.

Mandelic acid is derived and extracted from almonds. However, it differs from glycolic and lactic acids in that its molecules are larger and do not penetrate the skin as deeply. As a result, there is less overall irritation when compared with other AHAs, which is beneficial for those who have sensitive skin that is prone to inflammation. In addition, mandelic acid has an antibacterial effect on the skin, which makes it a viable choice for those with acne-prone skin who want to have a chemical peel but are worried about irritation as a result. A mandelic acid peel is also a possible choice for those who have never had a chemical peel before and want results that are gentle on the skin.
Salicylic acid is a beta hydroxyl acid (BHA) derived from willow bark. It has powerful anti-inflammatory and antimicrobial effects. It enables the breakdown of sebum and encourages superficial skin resurfacing without producing inflammation. Salicylic acid penetrates deeper than other acids, allowing for it to diminish inflammatory acne, control sebaceous secretion, reduce pore size and even out overall skin tone. Salicylic acid peels are not recommended for people with aspirin allergies or sensitivity. Generally, there is little to no downtime involved with this peel.
Lactic acid is an alpha hydroxyl acid (AHA) derived from sour milk. Lactic acid stimulates the production of new collagen which can make up the dermal matrix. It has a natural moisturizing effect on the skin, attracting water molecules, stimulating ceramide synthesis and modulating the skins' barrier function.

Suitable for sensitive/dry skin types, uneven skin tone, sun damage and pigmented spots.  There is absolutely no downtime involved with this peel. It is also recommended for delicate areas such as the neck & décolletage.